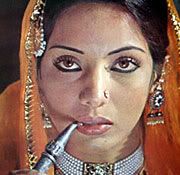 In a 2005 piece, DesiClub named the top 25 female Bollywood sex symbols - and our lady rang in at number 12: a little sexier than Mallika Sherawat, but not quite as sexy as Sharmila Tagore.

Okay, I'm being a little flip, but I think that comes from my surprise - and my delight - at seeing Shabana Azmi cracking this kind of list at all.

It's not that I don't think she's sexy - oh my paws and whiskers, is she ever sexy - it's just that Shabana's kind of sexy isn't the kind that I'd expect to land her on lists alongside the likes of Mallika Sherawat, Kareena Kapoor, and Priyanka Chopra. And it's not that the list skews toward actors of today - Shabana ji's contemporaries (and occasional partners-in-crime) Zeenat Aman and Parveen Babi top the list at No. 1 and No. 2, respectively.

The DesiClub article itself hits close to the reason we don't usually see Shabana ji on lists of "sex symbols." The article says that what "Shabana is sexy because she exudes class, charm and strength, which makes her captivating to watch."

Class, charm, and most of all - strength.

These attributes are a substantial part of what drives me to write this blog, and I would bet rupees to rasmalai that they are a substantial part of what draws you here to read it.

Yet when people think of sex symbols today, they think of Mallika Sherawat. They think of big boobs, flat stomachs, and lots and lots of skin. Class? strength? Which of today's female actors even has these qualities, much less is considered ragingly sexy because of them?

This blog is not called "Sounds Like Power" for nothing. There's a reason Shabana ji said that about herself, and there's a reason I liked the sound of it enough to build a blog around it. Shabana ji is formidable, and formidable is sexy. And though I personally don't think she's just "number 12" sexy, that's a quibble, a question of degree - I'm delighted she made the list at all. I'm delighted that there are still people out there who can look at a powerful woman and see sexy.

I wanted to illustrate, or at least supplement, this post with some screen captures from some of what I think are Shabana ji's sexiest scenes - pounding spices in Ankur, seducing Sanjeev Kumar in Shatranj ke khilari, snuggling Naseeruddin Shah in Sparsh, the hopscotch scene in Fire (oh, dear lord, the hopscotch scene in Fire) - but I am a little busy these days, and that combined with my ongoing computer troubles made collecting new screen captures out of the question. It will have to keep for another day. Which scenes do you think belong in that collection?



This picture is at least six kinds of sexy. The crappy scan really doesn't do it justice.

As a final note, I haven't tried here to editorialize on the rest of DesiClub's list, but here are a few quick comments. I can't really quibble with the placement of Zeenat in the top slot, and I'm happy to see my pet crushasaurus Sharmila faring quite well, along with the very worthy Dimple Kapadia, Helen, Madhuri Dixit, and Hema Malini all coming in so high on the list. 25 is a large enough number that no one essential should really be missed - but for heaven's sake where is Madhubala? If it were my list she'd be in the top five, perhaps even top three. Some of the women on the list don't do anything for me at all - Aishwarya, Bipasha, Mallika, Priyanka, Rekha -but I understand their inclusion. And that's enough editorializing for today. Oh, and thanks to Beth for bringing the article to my attention. I guess there's one about the men too, but - who cares? ;-)